REIT Rankings: Timber REITs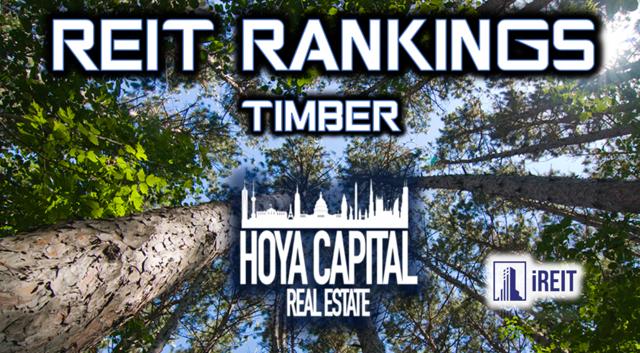 (Hoya Capital Real Estate, Co-Produced with Brad Thomas)
Timber REIT Sector Overview
Timber REITs have figuratively and literally been "on fire" over the last six months, reignited by a rejuvenation in the suddenly red-hot U.S. housing market, which has been perhaps the most powerful force behind the early post-pandemic economic recovery. In the Hoya Capital Timber REIT Index, we track the four timber REITs which account for roughly $30 billion in market value: Weyerhaeuser (WY), Rayonier (RYN), PotlatchDeltic (PCH), and CatchMark Timber (CTT). Timber REITs own nearly 30 million acres of US timberlands, more land than the smallest five states in the US combined.

Primarily concentrated in the Pacific Northwest and the Southern US, there are roughly 200 million acres of commercially-forested timberlands in the United States. An old forestry maxim is "the forest that pays, stays." Timber REITs are among the leaders in sustainable foresting, with all four timberland REITs having 100% of their land third-party certified as sustainable either by the Sustainable Forestry Initiative (SFI) or the Forest Stewardship Council (FSC). Due to responsible foresting of privately-owned land and growing demand for wood products (including lumber, paper, and biomass) and despite several years of above-average incidences of wildfires, primarily on federally-owned land on the West Coast, there are actually more trees now than there were 100 years ago, according to the Food and Agriculture Organization.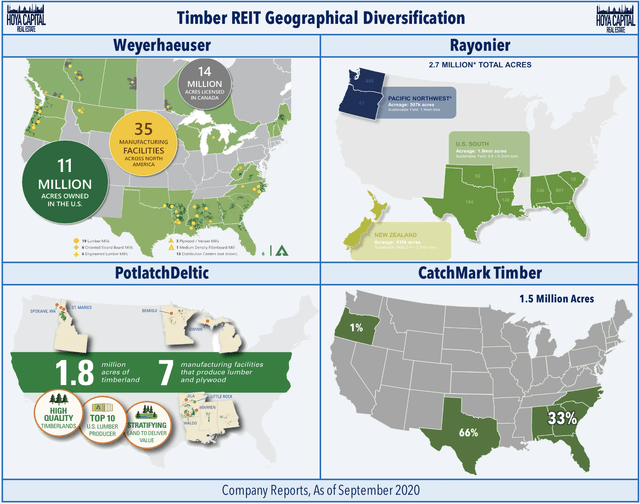 The vast majority of single-family homes in the US are built primarily with wood products, and wood has been increasingly used as a primary structural material in larger multi-family or commercial structures. Wood products account for more than a third of total construction materials cost inputs in the typical single-family home, and the average-sized home requires between 150 and 300 trees to construct. Timber REITs are typically considered a "specialty" real estate sector and comprise roughly 2-3% of the broad REIT ETFs like the Vanguard Real Estate ETF (VNQ) and the iShares U.S. Real Estate ETF (IYR). We view Timber REITs as a link connecting the commercial REIT sector with the residential construction sector as residential construction is responsible for roughly half of wood product consumption in the US.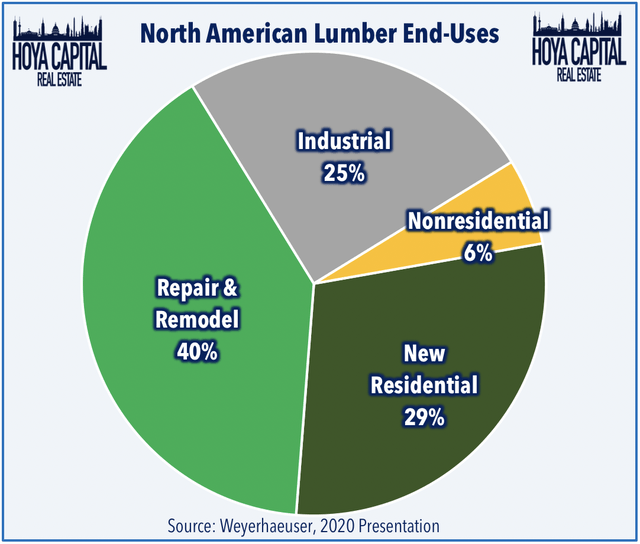 Long-term fundamentals look strong for the Timber REIT and broader U.S. housing sectors, powered by demographic trends that suggest a revival of the suburbs and single-family home construction activity throughout the 2020s. Grouped in the Home Building Products and Materials sector, Timber REITs comprise roughly 3% of the Hoya Capital Housing Index, the benchmark that tracks the performance of the US housing industry. Ultimately, we view an investment in the Timber REIT sector – especially the vertically integrated REITs (WY and PCH) – as a play on the compelling long-term trends in the US housing sector over the next decade, more specifically, a view in favor of the continued recovery in the single-family homebuilding sector following years of historically low home construction throughout the post-recession period.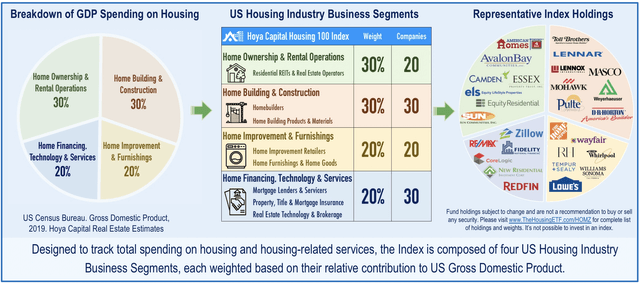 Amid the pandemic, housing has proven to be the "ultimate essential service" as households have exhibited a propensity to prioritize housing-related payments and investments in home improvement and living situation upgrades. While the sharp rebound caught many investors by surprise, we've emphasized since the dark days of late March that several substantial tailwinds should help to counteract the clear and present pandemic-related headwinds on the housing market including favorable millennial-led demographics, historically low housing supply, record-low mortgage rates, and the potential post-pandemic "suburban revival." Perhaps the sharpest of all "V-Shaped" rebounds has been seen in Homebuilder Sentiment, which surged to all-time record-highs in this week's report, driven by surging Home Buyer Traffic.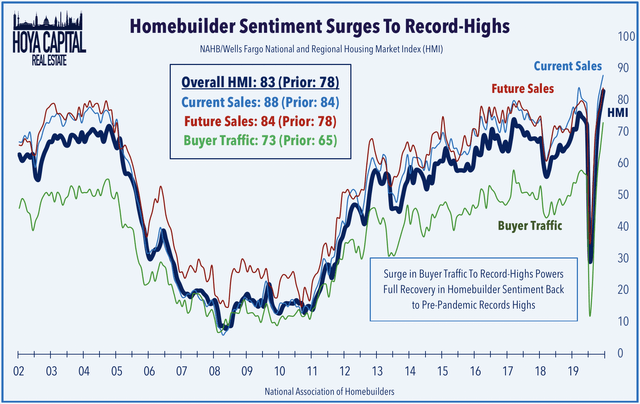 Ironically, the emerging constraint on further upside for the flourishing housing sector is surging lumber prices, the single most important commodity in single-family home construction and remodeling. Lumber prices have soared to record-highs from the combination of insatiable demand and reduced supply resulting from pandemic-related production shutdowns and forest fires raging in the Pacific Northwest. Timber REITs were caught off-guard by the velocity of the rebound in lumber demand from single-family homebuilding and remodeling activity and have struggled to meet customer demand. While timber REITs have been one of the best-performing REIT sectors over the last several months, these REITs probably should be doing even better had it not been for some overly-grim forecasts early on in the pandemic.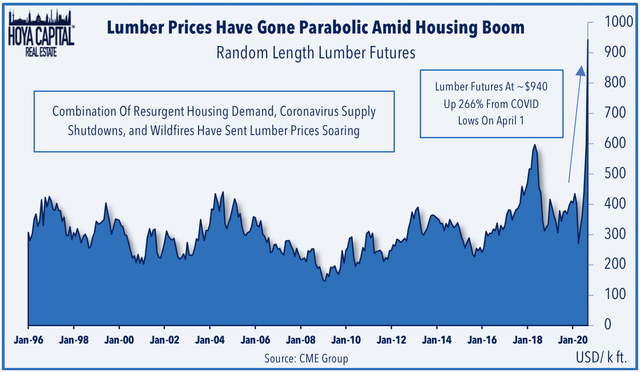 On that point, sector stalwart Weyerhaeuser, which is perhaps the most well-capitalized timber producer in the world, suspended its dividend in early May and curtailed production by 15-25%, citing expectations of "historic levels of unemployment and no clear path on the trajectory of economic recovery… and significant erosion in housing and residential construction." Clearly, this dire economic forecast proved to be widely off-target as most economic indicators bottomed around that time, led by the resurgent U.S. housing market. Nevertheless, Weyerhaeuser was one of 64 equity REITs – and the only timber REIT – to have reduced or suspended their dividend this year, while 28 equity REITs have raised dividends in 2020 to levels above those of 2019.

Powered by the recent post-pandemic rejuvenation across the U.S. housing industry, the Timber REIT Index has surged more than 100% from its lows in late March when the sector had plunged by more than 50% from pre-pandemic levels. At that time in late March, Timber REITs were among the worst-performing property sectors amid the aforementioned expectations of substantial pain ahead. Despite the rebound, however, timber REITs remain lower by 5.8% in 2020, which is still good enough for 8 out of the 18 property sectors and is better than the 14.2% decline on the broad-based Vanguard Real Estate ETF (VNQ). The Homebuilding Products sector in the Hoya Capital Housing Index, meanwhile, is higher by 1.7% this year.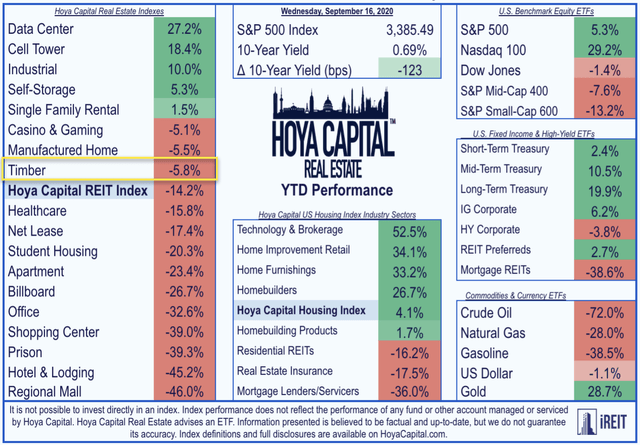 For better or worse, the performance of Timber REITs is highly linked to the performance of the single-family housing industry. Due to historically low levels of new home construction in the post-recession period, the US housing stock has been rapidly aging. The near-shutdown in single-family homebuilding after the recession and subsequent grinding recovery in new home construction has brought the average age of owner-occupied homes back near 40 years. Aging homes require exponentially more maintenance, and as a result, in addition to the overdue recovery in new home construction activity, we believe that the home repair and remodeling business will drive incremental growth for timber over the next decade.

Impact of Wildfires and Hurricanes
At this point, timber REIT executives haven't reported any material impact from recent wildfires in the Pacific Northwest nor Hurricanes Laura and Sally. RYN and WY are the most "geographically exposed" REITs to the West Coast wildfires and both commented this week that direct impacts are not expected to be material, except for indirect impacts through lumber price increases.
RYN reported this week:
"Approximately 10,000 acres of timberland properties in Louisiana sustained severe damage from Hurricane Laura. The Beachie Creek fire in Oregon spread through approximately 9,000 acres of land owned by ORM Timber Fund II, which Rayonier manages and in which Rayonier holds a 20% economic interest. We do not expect the damage to our timberlands to have a material impact on our financial condition."
WY commented this week:
"We don't currently have any fires on any of our timberlands in Washington. In terms of log supply across the system, in Oregon logging has by and large been shut down over the course of last week. So I think things will get pretty tight here depending on how long this continues. But no impacts in terms of fire damage to any of our mills"
Deeper Into The Woods With Timber REITs
Real estate ownership is only part of the business for Timber REITs, which take on quite a bit more operational responsibilities than other REIT sectors. There are three primary business lines for timber REITs:
1) Timberland – The "core" business line. These companies sell timber that is cut and delivered to a production facility by the company itself or through "stumpage," whereby a third-party is responsible for the cutting and transportation. A true commodity, prices of timber are determined by prevailing supply and demand conditions. Usage of timber products for biomass-fueled energy production falls into this category as well.
2) Real Estate – These companies lease land to third-parties for various uses, including energy production, mining, or recreation. This business line encompasses about 20% of total EBITDA, and Timber REITs have special exemptions under the tax code to qualify as REITs despite operating outside of the traditional definitions of "real estate."
3) Wood Production – To varying degrees, these companies are involved down the supply chain in the production and manufacturing of wood products. Mills transform the raw timber into various wood products, including lumber, OBS, engineered wood, or wood pulp-based products such as paper. Production facilities are generally located in close proximity to timberlands.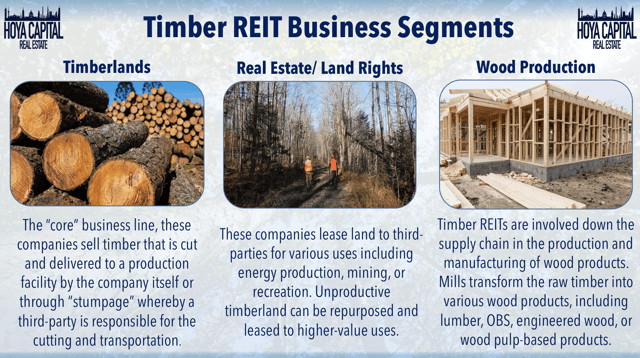 Comparing these four Timber REITs, it's important to note that Rayonier and CatchMark are more "pure-play" timberland owners, while Weyerhaeuser and PotlatchDeltic are more vertically integrated down the supply chain, with significant business operations in the wood products segment. In general, pure-play timberland REITs are more commodity-like and have higher correlations with lumber prices, while the vertically integrated REITs are less correlated with lumber prices. Vertically integrated REITs tend to be more correlated with the US economic business cycle, particularly the performance of the residential housing sector.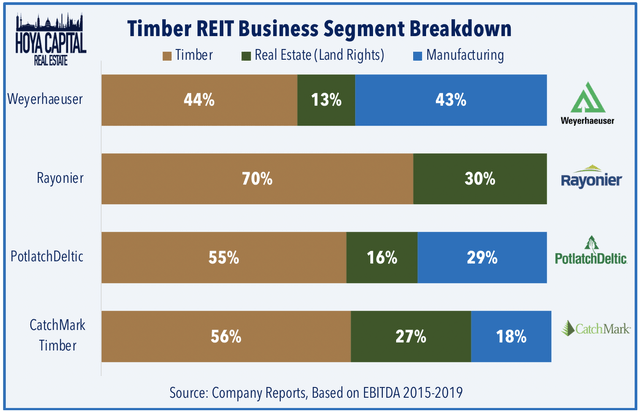 The vertically integrated REITs – Weyerhaeuser and PotlatchDeltic – have been the clear outperformers this year, as these REITs are expected to see a more immediate benefit from the surge in lumber prices over the last quarter. Lost in the madness of 2020, Timber REITs are coming off a very strong year in 2019 as the sector produced total returns of 45.3%, topping the 28.7% return on the NAREIT All Equity REIT Index. Since the start of 2015, timber REITs have produced notable outperformance relative to the broad-based averages with total returns averaging 7.6% per year, led by PotlatchDeltic.

Timberland ownership, while is still a highly fragmented industry comprised of thousands of individual landowners, has undergone a continued path towards consolidation and institutionalization over the past four decades. The wave of institutionalization began during the 1980s, but the first Timber REIT was not established until 1999 with the conversion of Plum Creek from an MLP into a REIT. Rayonier and Potlatch followed in the early 2000s, with Weyerhaeuser finally joining the party in 2010 and eventually merging with Plum Creek in 2016 to form the largest Timber REIT. CatchMark Timber went public in 2013, and most recently, Potlatch and Deltic Timber merged in 2018. Due to demand for wood products, Timber REITs generally plant significantly more trees in a given year than they harvest, and climate scientists have suggested that planting more trees would be the best way to address climate change.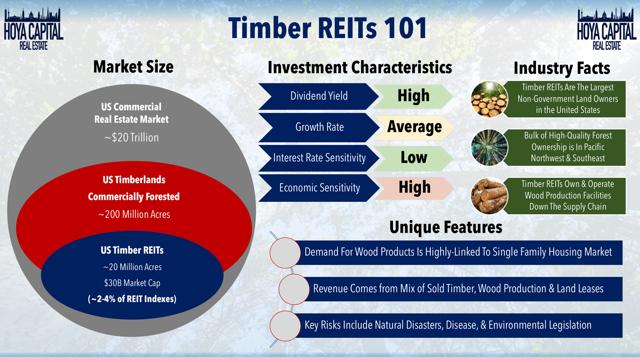 Timberland itself is generally viewed as an uncorrelated asset class, but Timber REITs tend to be quite correlated with the economic cycle and with the broader U.S. equity market. Highlighting the importance of the performance of the US housing market to Timber REITs, it's interesting to note that Timber REITs actually have a higher correlation with the single-family home construction ETFs, the SPDR Homebuilders ETF (XHB) and iShares U.S. Home Construction ETF (ITB) than to Equity REIT ETFs. As expected, the more vertically integrated REITs – WY and PCH – have the highest correlations with the homebuilding sector. Two ETFs track the broader Timber and Foresting sector: the iShares S&P Global Timber & Forestry Index ETF (WOOD) and the Invesco MSCI Global Timber ETF (CUT).

As a whole, timber REITs command some of the strongest balance sheets across the REIT sector, an important attribute considering the high degree of economic sensitivity. Weyerhaeuser, the largest Timber REIT, trades on the S&P 500 (SPY), while Rayonier and PotlatchDeltic are included in the S&P 400 (MDY) mid-cap index. Three of the four Timber REITs hold investment-grade long-term bond ratings from S&P. CatchMark Timber, the smallest REIT of the group, takes on a higher degree of leverage.

Valuation and Dividend Yield of Timber REITs
Due to the dividend suspension from Weyerhaeuser – which accounts for three-fourths of the cap-weighted index – Timber REITs rank towards the bottom of the real estate sector when it comes to dividend yield, paying an average yield of 1.0% compared to the REIT sector average of roughly 3.1%. Using an equal-weight average, however, the timber REIT sector yields a respectable 3.4%. Timber REITs pay out just 22% of their available free cash flow, which is towards the bottom of the REIT sector.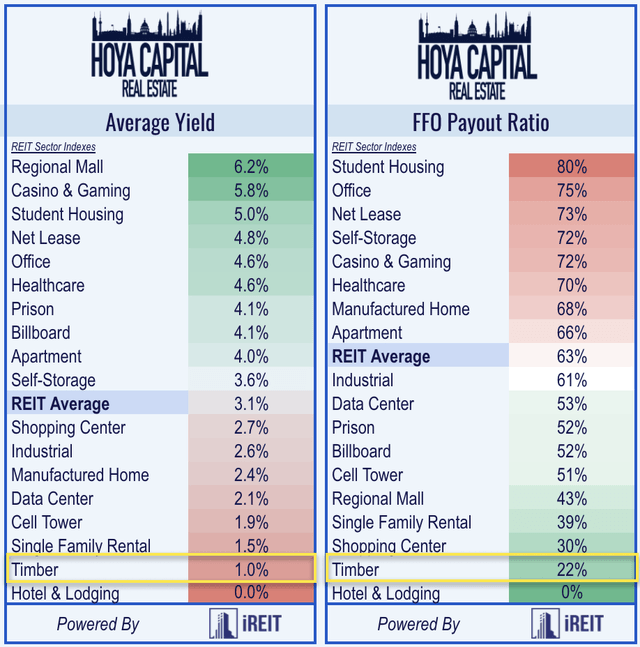 As noted above, Weyerhaeuser was the only Timber REIT to reduce dividends this year while the other three REITs maintained payouts at pre-pandemic levels. CatchMark and Rayonier are the highest dividend yielders with yields of 5.8% and 3.9%, respectively. Parsing recent earnings calls and other public comments, we believe that WY is likely to reinstate a dividend sometime over the next quarter. WY CEO Devin Stockfish commented this week at an industry conference: "One of our top near-term priorities is reinitiating the dividend. And at this point, I would say it's sooner rather than later."

Despite the outperformance this year, timber REITs still trade at slightly discounted valuations to the REIT averages based on FFO ("Funds From Operations") and NAV ("Net Asset Value") based metrics. Timber REITs trade at roughly 17.4x consensus price-to-FFO compared to the 18.7x multiple on the market-cap-weighted REIT average. We note that timber REITs trade at an estimated 15-25% discount to NAV, essentially in line with the REIT sector average around 15%. Somewhat counterintuitively, however, elevated or depressed equity valuations for REITs tend to be somewhat self-reinforcing for growth-oriented sectors like timber REITs, as low valuations can make it difficult to grow via accretive external acquisitions.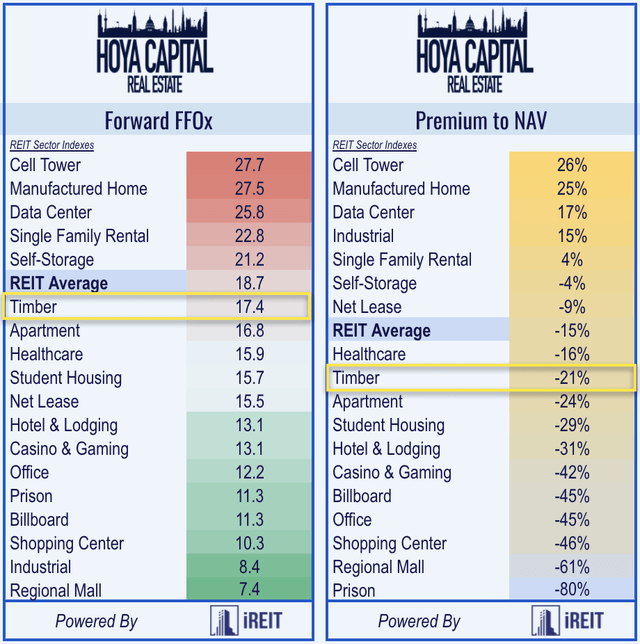 Bull and Bear Thesis for Timber REITs
As noted above, the performance of Timber REITs is highly linked to the performance of the single-family housing industry, which we expect to be one of the strongest-performing equity sectors over the next decade. Specific to timber REITs, we believe that size and scale have proven to be competitive advantages and because of the unmatched access to capital and tax advantages of the REIT structure, these Timber REITs will be able to continue to accretively grow through external acquisitions. Additionally, Timber REITs may also be an attractive complement to a REIT portfolio due to their limited interest rate sensitivity and more growth-like features. Below, we outline the five reasons that investors are bullish on Timber REITs.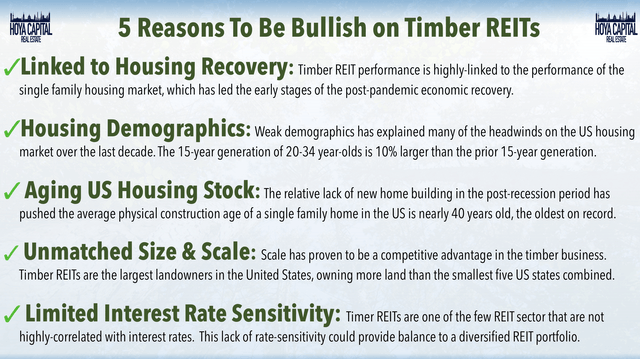 As illustrated by the steep plunge last year, Timber REITs are certainly not without their risks. The Southeastern US has been dealing with a continued oversupply of softwood lumber, while the Pacific Northwest has seen oversupply issues related to the slowdown in Chinese purchases of hardwood lumber. Tariffs have had a direct and significant negative impact on hardwood exports from the US, according to the American Hardwood Export Council. Additionally, despite being excellent environmental stewards, Timber REITs are exposed to environmental policy risks that may make foresting more expensive or less productive. Below, we outline the five reasons why investors are bearish on Timber REITs.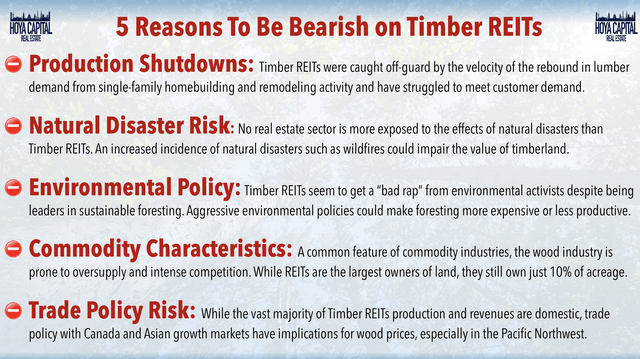 Key Takeaways: A Play on Housing Rebound
One of the best-performing REIT sectors this year, Timber REITs have nearly doubled in value since their mid-pandemic lows in March, reignited by a rejuvenation in the suddenly red-hot U.S. housing market. Timber REITs were caught off-guard by the velocity of the rebound in lumber demand from single-family homebuilding and remodeling activity and have struggled to meet customer demand. Long-term fundamentals look strong for the Timber REIT and broader housing sectors, powered by demographic trends that suggest a revival of the suburbs and single-family housing in the 2020s.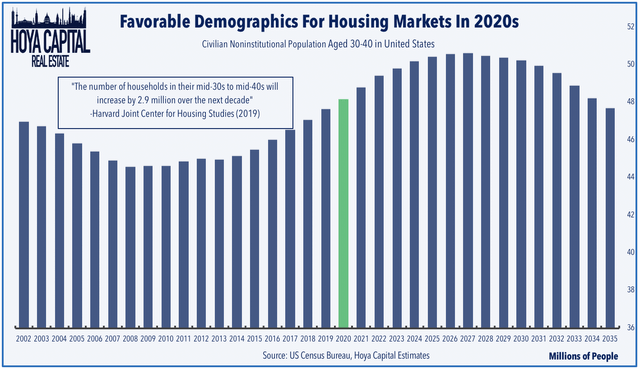 If you enjoyed this report, be sure to "Follow" our page to stay up to date on the latest developments in the housing and commercial real estate sectors. For an in-depth analysis of all real estate sectors, be sure to check out all of our quarterly reports: Apartments, Homebuilders, Manufactured Housing, Student Housing, Single-Family Rentals, Cell Towers, Casinos, Industrial, Data Center, Malls, Healthcare, Net Lease, Shopping Centers, Hotels, Billboards, Office, Storage, Timber, Prisons, Real Estate Crowdfunding, High-Yield ETFs & CEFs, REIT Preferreds.
Disclosure: Hoya Capital Real Estate advises an Exchange-Traded Fund listed on the NYSE. In addition to any long positions listed below, Hoya Capital is long all components in the Hoya Capital Housing 100 Index. Index definitions and a complete list of holdings are available on our website.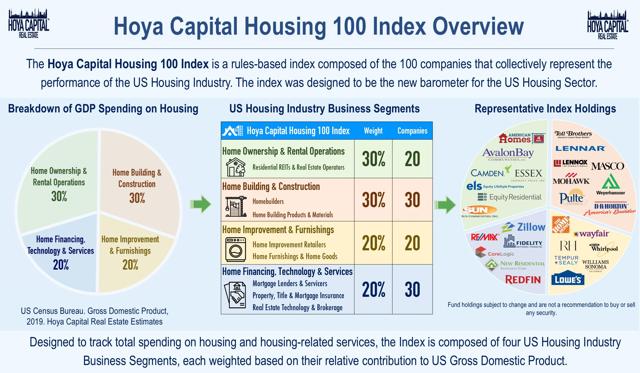 Subscribe to iREIT on Alpha For the Full Analysis
Hoya Capital is excited to announce that we've teamed up with iREIT to cultivate the premier institutional-quality real estate research service on Seeking Alpha! This idea was discussed in more depth with iREIT on Alpha members. Exclusive articles contain 2-3x more research content including access to iREIT on Alpha's REIT Ratings and live trackers. Sign up for the 2-week free trial today! iREIT on Alpha is your one-stop source for unmatched Equity and Mortgage REIT coverage, Dividend ETF Analysis, High-Yield REIT Preferred Stocks & Bonds, real estate macroeconomic research, REIT and property-level analytics, and real-time market commentary.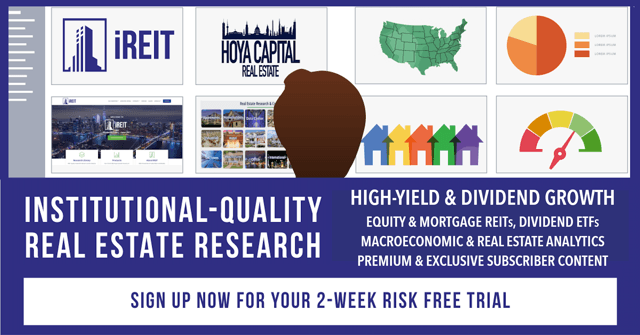 Disclosure: I am/we are long WY, PCH, HOMZ. I wrote this article myself, and it expresses my own opinions. I am not receiving compensation for it (other than from Seeking Alpha). I have no business relationship with any company whose stock is mentioned in this article.
Additional disclosure: Hoya Capital Real Estate ("Hoya Capital") is an SEC-registered investment advisory firm that provides investment management services to ETFs, individuals, and institutions, focusing on portfolio and index management of publicly traded securities in the residential and commercial real estate industries. A complete discussion of important disclosures is available on our website (www.HoyaCapital.com) and on Hoya Capital's Seeking Alpha Profile Page.
It is not possible to invest directly in an index. Index performance cited in this commentary does not reflect the performance of any fund or other account managed or serviced by Hoya Capital Real Estate. Nothing on this site nor any published commentary by Hoya Capital is intended to be investment, tax, or legal advice or an offer to buy or sell securities. Information presented is believed to be factual and up-to-date, but we do not guarantee its accuracy and should not be considered a complete discussion of all factors and risks. Data quoted represents past performance, which is no guarantee of future results. Investing involves risk. Loss of principal is possible. Investments in companies involved in the real estate and housing industries involve unique risks, as do investments in ETFs, mutual funds, and other securities. Please consult with your investment, tax, or legal adviser regarding your individual circumstances before investing. Hoya Capital, its affiliate, and/or its clients and/or its employees may hold positions in securities or funds discussed on this website and our published commentary. A complete list of holdings is available and updated at www.HoyaCapital.com.