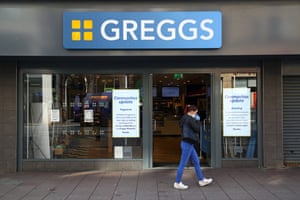 Good morning, and welcome to our rolling coverage of the world economy, the financial markets, the eurozone and business.
A swathe of UK companies are reporting today that Covid-19 continues to hurt their businesses, more than six months after the UK first imposed restrictions to battle the pandemic.
High street baker Greggs has warned that staff faced reduced hours, and potentially job cuts, as it tries to cut its employment costs.
Greggs, famous for its steak bakes, sausage rolls and new vegan offerings, reports that like-for-like sales in September are only 76.1% of the 2019 levels (an improvement on a 'slow' August).
With the government's furlough scheme wrapping up in a month (replaced by a less generous wage subsidy package), Greggs says it must make cuts:



With business activity levels
…