The song "Aquarius" from the musical "Hair" references a time of peace, love, harmony, and "trust abounding." So it is fitting that executive producer John McNamara chose to name his 2015 television series, set in 1967 Los Angeles — two years before the horrific Tate-LaBianca murders cast an indelible pall over the city — in honor of the tune. Billed as historical fiction, "Aquarius" (currently streaming on Netflix) follows Charles Manson (Gethin Anthony) after his release from his second long-term prison stint, as he assembles his so-called "family," attempts to start a music career, and begins to enact his reign of terror. Also at the center of the story is dogged Hollywood PD detective Sam Hodiak (David Duchovny), a World War II vet fixated on nailing Manson, as well as righting other wrongs of the period.
Decidedly darker than 2019's "Once Upon a Time in Hollywood," the most notable of
…
Read More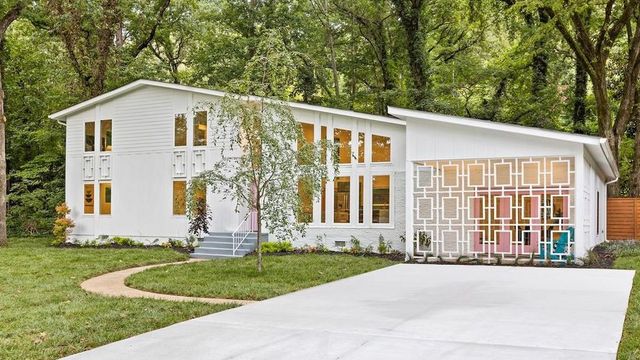 In Chattanooga, TN, home renovation pro Gary Crowe has been slowly changing the housing stock, in the same vein as Chip and Joanna Gaines in Waco, TX.
Published

A man obsessed with midcentury modern design renovates homes in Chattanooga, TN. He adds pops of color and emphasizes clean lines, dipping back into decades past for inspiration.
Sounds like the plot of an HGTV show, right?
In the same vein as Chip and Joanna Gaines in Waco, TX, Gary Crowe, 39, is slowly changing his city's housing stock. With his latest project—he's also the listing agent—he's now bought and renovated four homes on the same street.
"The look I was going for was Frank Sinatra," says Crowe of the four-bedroom, 3.5-bathroom home he's dubbed Palm Paradiso.
The freshly renovated residence sits
…
Read More
Travel may be challenging these days, but it's still possible to take a break and get away from it all, and to do so in style — midcentury modern style, that is. With its sleek, clean lines, use of modern materials, and gravity-defying shapes and forms, midcentury modern design took the United States by storm in the post-World War II era and coincided with an uptick in leisure time and travel, leading to the construction of hundreds of hotels, motels, motor inns, and resorts across the country. While many have been significantly altered, if not demolished over the years, there are still many hotels that await your stay whether you're in search of the perfect stiff martini, a poolside lounge, or some great architecture. Take a look at some of these iconic buildings below!
The Statler | Dallas, TX
Originally opened in 1956 as one of Hilton's first convention properties,
…
Read More