Source: Journal Media Studio/YouTube
"WE WANTED TO have a big fridge. We've always lived in homes with tiny fridges, so we wanted one with enough space."
Along with more refrigerator space, another top priority for Noelle Sloane was having a kitchen that could comfortably host guests – something many of us are looking forward to being able to do more freely once current Covid-19 restrictions lift.
"We wanted somewhere that we could host and have family and friends over," says Noelle, who moved into her self-build home in Ballymacoda, Co Cork with her boyfriend Paul last year. "We wanted the kitchen to be lovely and bright and fresh and still inviting." 
For me, it was important that we had an island with a hob on it. It makes hosting much easier. You can be involved in conversation while you're cooking for people.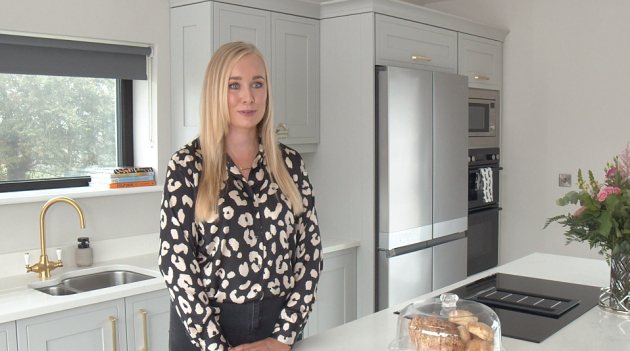 Noelle Sloane in her dream kitchen, the Hampton

…