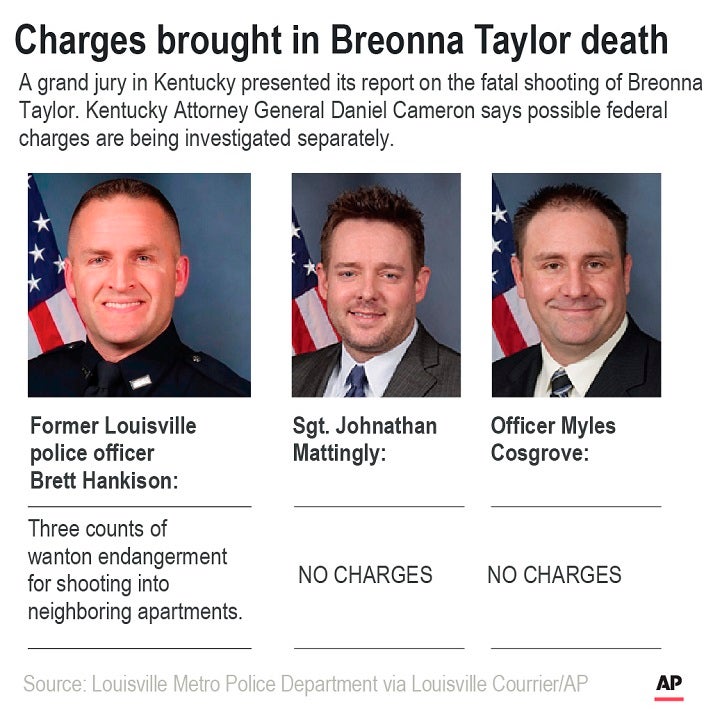 Members of the Louisville Metro Police Department's SWAT unit criticized the raid that ended with Breonna Taylor's death, with one member calling it an "egregious act," according to a report.
The criticism about the March 13 raid on Taylor's apartment came during interviews conducted by the department's Profession Integrity Unit with Lt. Dale Massey and other SWAT members, the Louisville Journal-Courier reported.
Officers were serving several warrants on multiple locations when Taylor's home was targeted. She was killed when Sgt. Jonathan Mattingly and detectives Myles Cosgrove and Brett Hankison fired more than 30 rounds after her boyfriend, Kenneth Walker, opened fire.
Walker stated he thought someone was breaking into the residence.
No officers were charged in Taylor's death. Hankinson was fired and faces three counts of wanton endangerment for bullets fired into a nearby apartment unit.
The highly-trained SWAT team responded to Taylor's apartment after the fatal police shooting. Sgt.
…
Read More
OTTAWA (Reuters) – Just four days into the new school year, Trevor Boutilier's five-year-old son was sent home from his Ottawa kindergarten with a runny nose and slight cough, and told to stay away until he'd had a COVID-19 test and was symptom free.
The local testing center was overrun, so Boutilier drove his son miles out of the city to a small town for the test. They waited for four days for the result, which came back negative.
By then, his son, who suffers seasonal allergies, had been symptom free for days and missed nearly a week
…
Read More
CLOSE

Indiana and Indianapolis have spent millions to hire contact tracers to reach out to people infected with the coronavirus and others they have been in contact with to help stop the spread. Here's how that works.
Wochit
Indianapolis moved to distribute the remainder of its federal coronavirus relief funding on Wednesday night, draining the remains of its total $168 million in Cares Act money that city officials have repeatedly stressed is not enough to weather Indianapolis through the ongoing pandemic.
The final $76 million continues a variety of public assistance programs while also launching new initiatives — including roughly $7 million in building modifications for the Indiana Convention Center and a foreclosure prevention program. 
 As city leaders  voted to spend the last federal dollars, Mayor Joe Hogsett lamented the lack of action from Washington, D.C. to provide more money.
"No amount of finger-pointing in Washington will make rent for
…
Read More