Peloton (PTON) has emerged during the pandemic as one the gems of the stay-at-home dynamic, as its connected fitness systems provide the in-home convenience of a workout without needing a gym (and when gyms had been closed). Peloton witnessed strong growth during the pandemic, and while shares may be a little pricey after following the tech rally step by step, the long-term growth potential remains visible, but not free from risks.

Source: Investor Presentation
For the third quarter Peloton recorded over 2.6 million total members logging over 44 million workouts, with 886,000 connected fitness subscribers, which corresponds to the Bike and Tread, as the digital subscription can act as a stand-alone service. On top of that, the 12-month connected fitness subscription had a 93% retention rate and only 0.46% monthly churn.
Connected fitness subscriber growth has been outstanding, up 94% YoY; digital subscription subscribers grew less – up 64%. As average workout per subscriber soared to nearly 18 per month, total workouts rose 145% YoY and 81% QoQ. While a significant benefit was derived from the 90-day free trial offered – over 1.1 million signed up and completed over 8 million workouts – it still corresponds to high subscriber engagement (assuming that none of those 8 million workouts were recorded with no free trial, total workouts still would have doubled YoY).
But for those workouts that were logged through the free trial users, underlying trends point to the $12.99 monthly digital system possibly acting as a complementary service instead of a complete substitute service for a gym membership. Peloton noted that "strength, yoga, and meditation" made up 80% of the workouts logged – while strength is a competitor to gyms, obviously, yoga and meditation benefit from the relaxed, at-home, individual environment, and the price reduction could tie together with higher engagement and see digital subscribers continue to rise even when gyms reopen in full-swing.
Engagement should also continue to be driven higher with Peloton's availability on Android and Fire TV (AMZN). Combined, Fire TV, Airplay (AAPL) and Chromecast (GOOGL) saw more than 1.3 million workouts streamed for Q3. Android TVs made by Sony (SNE), Philips, Sharp and more all will have functioning Peloton Digital apps.
This all contributes to the community that Peloton is building. March 25 had the first day with over 1 million workouts logged, and overall had "unprecedented levels of participation in classes across all of our fitness and wellness disciplines, and increased usage of our interactive software features, such as high fives, tags, and live stream participation." The sense of community acceptance, motivation and praise is part of the emotional drive behind continual engagement, but that also correlates to the business world too.
With high engagement and a heightened community feel, Peloton is rapidly expanding its word-of-mouth marketing. Referrals by word-of-mouth is now 49% of new buyer 'discovery' (from friends/family) compared to 23% in 2017. As Peloton continues to drive engagement and satisfy subscribers, more and more word-of-mouth referrals can start to drive sales without the need for higher marketing and advertising spend, which accounted for 30% of revenues for Q3. If Peloton can generate substantial sales through word-of-mouth, it might be able to scale down slightly on marketing expenses and boost margins.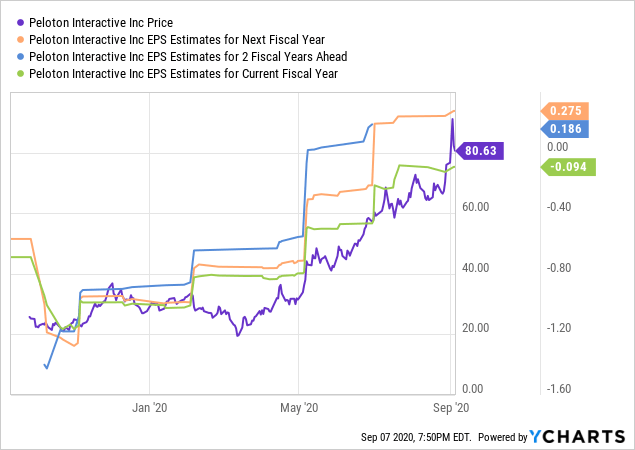 Margins easing can help contribute to the profitability picture. While Peloton is still yet to post a profitable fiscal year, it's right on the cusp due to the immense growth it's seen attributable to the pandemic. Original EPS estimates for the fiscal year were near a loss of a dollar per share in January, but now are just below a loss of $0.10 per share. FY 2022 was expected to have marginal improvement to the current year in January, but now is expected to show a $0.28 profit.
These numbers are easily achievable in the long-run (by FY 2022), especially so if Peloton can keep growth rising or even steady with paused cancellable advertising and reductions in expenses to help margins expand. However, the short-term charge towards profitability still has some risks associated with it.
With demand still higher than expectations, Peloton has "a backlog of Bike deliveries in all geographies" and although it is trying to decrease these "elongated order-to-delivery windows" (which could be "~6-7 weeks on average across the top 20 US DMAs as of [JPMorgan's (JPM)] checks on 9/1," it's coming alongside higher shipping and logistics costs, which ultimately could hurt margins as supply can't exactly match demand growth. However, less advertising spend could still offset that.
In the long run, demand and supply will eventually find their balance again, and Peloton can focus more on reining in advertising spend to substantially boost its unit economics; as of now, Peloton is expecting about $720 in subscriber lifetime value per $1 of acquiring that subscriber. With a net customer acquisition cost currently estimated at just above $5, any decreases in advertising spend could basically cause customer acquisition to vanish if Connected fitness gross profits and subscribers still grow.
And there's also still a huge market to capitalize on – the total global fitness/wellness market is estimated to be worth $600 billion, per the Global Wellness Institute, and domestic U.S. gym memberships generate $32 billion in revenues from 62 million members. With only 2.2 million total members and under 1 million Connected fitness subscribers, there's more room to grow – if Peloton steals just .8% of gym members to its platform, that's half a million users. Yet Peloton doesn't even have to steal members – it can simply start to grow more of a complementary relationship to gyms with its digital subscription, as a possibility. By FY 2022, Peloton could surpass 2.8 to 3 million Connected subscribers, and potentially up to 6 million and more total members if growth continues.
But there are risks to that. Peloton's equipment is pricey, and we have witnessed home gyms come in and out of style before – it's not something that Peloton will be immune to, but the community it has grown, the high engagement and low churn all point to that as a lower likelihood of happening in the next few years. Peloton does seem to be aware of that fact, and unveiled a new pricing structure – the original Bike will now be $1,895, ranging up to the Bike+ at $2,495; the Tread will have a lower-priced model at $2,495 too.
Speaking of churn, that could be one of the biggest risks to Peloton – Apple is rolling out a digital fitness app, which doesn't have the infrastructure, but the ability to compete with the digital stand-alone subscription. And while churn stays low, it's a big issue if it rises, since 95% of Connected fitness subscribers are paying month-to-month. So subscribers aren't locked into Peloton's model – if they want to leave, they can go and there's nothing really to stop them like a yearly obligation would.
Another risk is that the rapid growth associated with the pandemic starts to slow – while the CAGR to subscribers is still triple-digit and has been since 2017, the surge due to the pandemic could potentially be a one-time event before growth cools. Peloton can't grow at over 100% forever, and there has to be a time where growth starts to flatten. The pandemic didn't necessarily pull forward years of growth, rather it seems to have caused a surge in growth due to overarching circumstances. As such, growth should be able to continue, but as users start to reach in the millions, it will be harder to grow consistently at the rates we see today.
Peloton still has been a solid beneficiary of the pandemic related stay-at-home trends, and can still find growth in the near and long term even after gyms reopen due to high engagement, high word-of-mouth referrals driving purchases, and the stand-alone digital subscription available on TVs. Consistent growth in Connected fitness will be the strong point, and avoiding churn due to high month-to-month payment methods will be key to preserving growth. Shifts in consumer behavior and what's 'in-style' could rapidly change a few years down the road and leave Peloton in the dust, but engagement looks to speak otherwise. Other fitness subscriptions and rollouts could start to challenge Peloton for market share, but the community feel that Peloton has created and the emotional play involved could preserve its integrity. Peloton still looks to have more upside potential as it capitalizes on pandemic-spurred growth.
Disclosure: I/we have no positions in any stocks mentioned, and no plans to initiate any positions within the next 72 hours. I wrote this article myself, and it expresses my own opinions. I am not receiving compensation for it (other than from Seeking Alpha). I have no business relationship with any company whose stock is mentioned in this article.