Source: Journal Media Studio/YouTube
"WE WANTED TO have a big fridge. We've always lived in homes with tiny fridges, so we wanted one with enough space."
Along with more refrigerator space, another top priority for Noelle Sloane was having a kitchen that could comfortably host guests – something many of us are looking forward to being able to do more freely once current Covid-19 restrictions lift.
"We wanted somewhere that we could host and have family and friends over," says Noelle, who moved into her self-build home in Ballymacoda, Co Cork with her boyfriend Paul last year. "We wanted the kitchen to be lovely and bright and fresh and still inviting." 
For me, it was important that we had an island with a hob on it. It makes hosting much easier. You can be involved in conversation while you're cooking for people.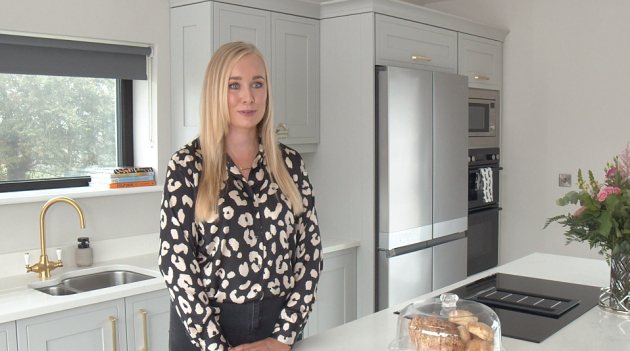 Noelle Sloane in her dream kitchen, the Hampton

Source: Cash & Carry Kitchens
After seeing and loving a Cash & Carry Kitchens design in someone else's house, Noelle went to the showroom in Cork city with her wish-list in hand. There she met with kitchen designer Declan Hennessy, who worked to create a space that matched Noelle's vision.  
"One of Noelle's main things was to have lots of worktop space, plenty of storage space and easy access to storage," he says. "There's a lot of satisfaction to be got from knowing you designed her dream kitchen and that she is very happy with it."
With the kitchen completed – including the all-important centre island – Noelle says it's everything she wanted and more. "It's definitely the heart of our home. It's where we have the most fun and the most memories in the house already, which is really important to us."

The Hampton from Cash & Carry Kitchens

Source: Cash & Carry Kitchens
"I just love the way it is when we have people over. That was the most important thing to us from the kitchen," she says. "It wasn't so much the kitchen itself, it was what we would be doing in the kitchen and who we would have in the kitchen. I just feel that the layout is absolutely perfect for what we want from it."
From minor details to installing a built-in extractor fan, Noelle and Declan take us through the process of creating her dream kitchen in this video. 
You can book a free design appointment with Cash & Carry Kitchens today, at any of their 15 nationwide showrooms. With a reputation built on quality, trust and expertise, Cash & Carry Kitchens are with you all the way – from the first conversation, to seeing your new kitchen installed by trained fitters. To start your journey and book a free consultation, visit cashandcarrykitchens.ie or call 1890 92 92 26.