KB Home (KBH) is an entry level homebuilder with ~55% of its deliveries to first-time home buyers, ~22% of its deliveries to first move-up buyers and rest 23% to second move-up and active adult buyers combined.
Recent Underperformance
While most of the homebuilders are making new highs post Covid-19 and entry level homebuilders are outperforming the industry, KB Home is still trading ~11% below its February 2020 highs. The company reported an impressive net order growth for July at 23%, but it was still much lower than over 50% yoy growth which other entry level homebuilders like Meritage Homes (MTH), DR Horton (DHI) are reporting. Hence, its stock price is lagging its peers.
The key reason behind this underperformance is the company's Built-to-Order™ approach. KB Home provides each of its homebuyers with a highly personalized experience where they can make a wide range of structural and design choices for their future new home. The company's sales representatives, design consultants and other personnel partner closely with each homebuyer through each major step in the design, construction and closing of their home. This is different from most of the other public homebuilders, especially at the entry level, which provide limited choices to the buyers and have turned their focus on building speculative inventory in order to serve the current resurgence in demand.
With most of the consumers still following social distancing measures, any buying process which involves a lot of physical interaction will face headwinds. So, KB Home's new bookings are underperforming. While this may continue in the short term, I believe the gap between KB Home's performance and other builders will likely narrow as the coronavirus fear slowly subsides. KB Home's net orders have already improved from -55% in May to +11% in June and +23% in July. The major breakthrough will of course come sometime next year with the launch of Covid-19 vaccine (if any of the current trial candidates are successful). So, if one is looking for an investment horizon of 12 months to 18 months, the stock makes a good sense.
A medium to long term tailwind
In addition to these short term headwinds, there is a tailwind emerging. This crisis has resulted in consumers spending a lot more time at home with many adults working from home full-time and kids attending online school. So, there has been an increase in the need for customization and demand for optional upgrades. For example, Toll Brothers (TOL) recently reported that buyers added ~23% in upgrades to the base price of their homes in the last quarter. This is the highest level the company has seen in its history.
I believe this trend will continue for the next several years. While the coronavirus may go away, the situation which this pandemic created will be on the mind of home buyers for long and they will likely prefer to spend more on customization if it helps them deal with a similar situation in the future.
With it offering much more customization than its peers, KB Home' new orders may outperform its peers in the medium to long term. I believe we will likely transition from the current underperformance to outperformance by the end of the next year.
Returns-Focused growth plan
Before Covid-19 hit, KB Home was making good progress on its returns-focused growth plan which management introduced in 2016. This plan aimed at generating higher revenues and improving the company's homebuilding operating income margin, return on invested capital, return on equity and leverage ratio. Management has been able to make a good progress on all these fronts through improvement in business operations and improving KB Home's asset efficiency.
As an example, back in 2016, the company used to have a lot of inactive inventory on its balance sheet in the form of land held for future development or sale. This inventory didn't add much to the return on invested capital until it was developed. This excess inventory also increased the risk as many homebuilders see inventory writedowns during a down cycle. The company reduced land held for future development or sale to ~4% of total inventory at the end of FY2019 from 12.6% at the end of FY2016.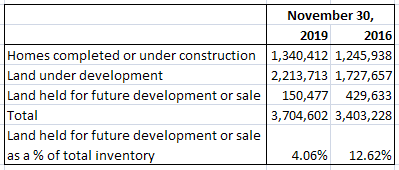 Source: Company filings, GS Analytics estimates
The company has also been very disciplined in its approach to acquire land over the last couple of years and is primarily focused on communities that provide a roughly one year to two year supply of lots in preferred submarkets with price points that are attainable by the median household income. The company has ~3.1 years supply of owned lots based on its last 12-months of deliveries. This is towards the lower end when compared to other homebuilders and as discussed above a lower inventory of land reduces risks of write-down during a down cycle.
The company has also improved its operations and its build times were down 12 days year-over-year (an ~8% improvement) in the fourth quarter of 2016. Overall, the company has significantly improved its performance from 2016 to 2019. Below are some of the relevant metrics.

Source: Company filings
Looking forward, management plans to continue its focus on profitably expanding its scale while increasing return. We will likely see a further decrease in its debt levels which will help its margins as, like most of the homebuilders, KB Home capitalizes interest cost (which forms a part of its cost of sales). The company has also streamlined its cost structure during this down cycle and expects to save ~$40 mn annually from the headcount reductions. While some of it may come back as volume recovers, I believe the company margins will benefit meaningfully from these actions.
Where can stock go?
Before Covid-19 hit, the company was expecting double digit growth in its revenues and higher profitability for FY2020. The company's net order growth from its homebuilding operations increased ~31% yoy in the first quarter helped by a ~3% expansion of its overall average community count and an increase in monthly net orders per community to 4.6 from 3.7.
As discussed above, the company is back to positive growth with July net orders up ~23% versus July 2019. I believe net orders will likely improve going forward as the coronavirus scare wanes and homebuyers look for more customization. Sell-side is currently expecting ~20.4% growth in FY 2021 revenues (consensus estimate = $5.48 bn) versus FY2019 revenues (= $4.55 bn). Given the current order rates are trending 23% above FY2019 levels; I believe sell-side analysts are modeling revenue growth for the next fiscal year based on what they are seeing in terms of orders growth currently. While there might be some upside if the order growth improves in the coming months, I understand if they want to model based on what they are seeing currently given the level of uncertainty in the recent months. I also believe the company's cost actions and progress on returns-focused growth plans are well understood. So, I believe margin and EPS estimates are in line with what management is saying.
However, I believe there is a good scope for an increase in valuation multiple which KB Home is getting. Before coronavirus, KB Home was trading at 1.5x tangible book value. The company is currently trading at ~1.35x tangible book value of ~$26.64 (based on stockholder equity of 2.490 bn and diluted share count of 93.47 mn as per latest 10-Q). At the same time valuations of other entry level home builders have expanded meaningfully. For example, Meritage Homes (MTH) which was trading at ~1.4x tangible book value in February is now trading at ~1.78x tangible book value.
I believe KB Home's business will return to normal by the end of the next year as Covid-19 fear wanes and it will likely begin outperforming other homebuilders as demand of customization increases. If we look at the current consensus estimates, they are expecting $1.53 in EPS for the second half of this fiscal year and $3.83 in EPS for FY2021 (ending November). So, the company's tangible book value can be around $31.46 by the end of the next fiscal year [$31.45 = Current tangible book value of $26.64 + 2HFY2020 EPS of $1.53 + FY 2021 EPS of $3.83 – (annual dividend Payout of $0.36)*1.5].
Applying a 1.5x Price/Tangible Book Value multiple we get the target price of $47.19, which implies ~31% upside. Hence, I believe the stock is a good buy at the current levels for the investors who can hold the stock for the next 12 months to 18 months.
There is further upside if the housing market continues to improve from the current levels. In a previous report on housing, I discussed how the last decade of significant underbuild in housing market will result in very strong growth over the coming decade. While the supply was already very constraint because of the last decade of underbuild, Covid-19 and low-interest rates have catalyzed demand. According to my calculations, single family housing starts will need to go ~74% above FY2019 levels and stay there for more than a decade if the significant underbuild from 2008-2019 has to be compensated. I don't think any analyst is pricing that scenario now but there is a very good possibility of that scenario coming to fruition over the coming years. You can read my detailed analysis on it in my previous article here. I also like to hear variant view from readers. So, please feel free to comment on your thoughts on KB Home or the housing market below.
Disclosure: I/we have no positions in any stocks mentioned, and no plans to initiate any positions within the next 72 hours. I wrote this article myself, and it expresses my own opinions. I am not receiving compensation for it (other than from Seeking Alpha). I have no business relationship with any company whose stock is mentioned in this article.