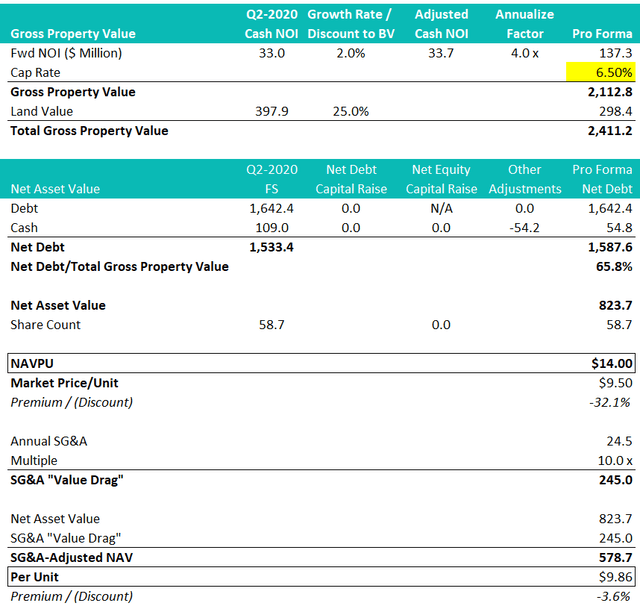 Operation Seems Fine
The SFR as an asset class is showing resiliency and Front Yard Residential (RESI) is no exception. August 2020 operating data continue to show a high level of collection and a continuation of strong rent growth. The major driving factor seems to be the increased demand for isolated rental space in the midst of the COVID crisis for families.
Both rent growth on renewals and positive re-leasing spread contribute to the overall rent growth. The high level of collection is most likely helped by all the economic stimulus packages, but the degree of which is a wildcard. The management commented that they haven't surveyed their tenants on their current job status, and the management doesn't think it's appropriate to ask their tenants directly about whether they are paying rent with cheques from the government on the Q2-2020 earnings call. However, on average about one-third of the properties turnover on a TTM basis (6-8% per quarter), and RESI must conduct background checks on new tenants, so over time they should have more up-to-date employment information on its tenant base.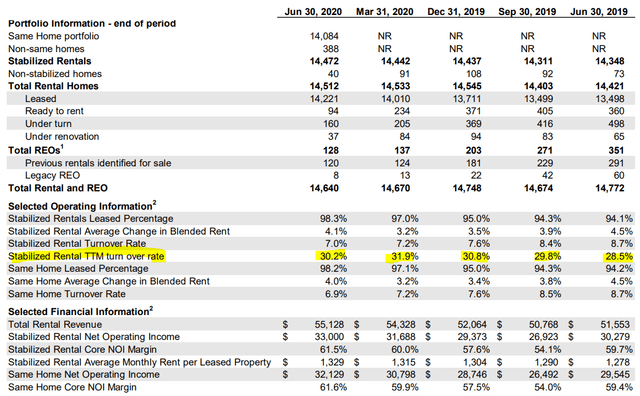 Source: Investors Presentation
Blackstone Validates SFR via Investment in Tricon
On August 27, Tricon Residential (OTC:TCNGF) announced that Blackstone has purchased $300 million 5.75% convertible preferred equities, representing 14% of the pro forma fully diluted shares outstanding. Taking money from arguably the best real estate investor in the world is a huge validation for the SFR asset class.
While different in scale and leverage profile, there are enough portfolio similarities that make me think that the Blackstone/Tricon transaction reflects positively for RESI (see Tricon and RESI investors presentations).
Both focus on middle market defined as monthly rent between $1,000 to $1,800 (although RESI is on the lower end at $1,329 and Tricon at $1,432 per their investor presentations).
RESI is present in many of the markets that Tricon is in (e.g. Atlanta, Dallas-Fort Worth, Houston, San Antonio, Indianapolis, Charlotte, Nashville, Jacksonville, Tampa, Orlando).
While it's within the realm of possibilities, I'm not suggesting that Tricon partner up with Blackstone to take RESI private, but having a strategic and a financial player partnering up in a market where a portfolio of consolidated properties is hard to come by certainly makes things interesting, and looks bullish for RESI. At least, Blackstone is validating the resiliency of SFR as a long-term investment.
Bringing Management In-house Help On Two Fronts
on August 14, RESI announced that it's terminating the asset management agreement with Altisource Asset Management and bringing the management team in-house. The total cost of internalization for RESI is $54.2 million (can be settled in cash, or cash + RESI stock). RESI will save the ~$3.6 million per quarter management fee but will have to shoulder the costs of all the services that the asset management agreement provided.
RESI hasn't indicated a normalized SG&A level post internalization but there in theory should be some cost savings. Since the FY2019 and FY2020 SG&A expenses are elevated due to a proxy fight and a (failed) go-private transaction, we need to look at the FY2018 SG&A for a more normalized level – roughly speaking RESI spends $13.8 million for the internal SG&A and $14.7 million for the external management fee. This is completely a guess but for modelling purpose, I'm going to assume an SG&A saving of $4.0 million. RESI is paying $54.2 million for some cost savings, and $4.0 million equals a yield of ~7.4%. I think that's a minimum hurdle for a capital decision like this.
Another benefit of having an integrated operation is that it makes any potential go-private transaction much cleaner than before, potentially widening the buyer base.
Adequate Liquidity and No Near-term Maturity Wall Means RESI Can Stay in the Game
With $109 million cash on hand and an additional ~$92 million of available funding, RESI should be able to live within its operating cash flow and liquidity sources. Obviously, this is also helped by a total elimination of the dividend.
In terms of the maturity wall, the CS Repurchase Agreement has always been a short-term funding vehicle which has been extended multiple times in the past. The HOME II Loan Agreement have a stated maturity of November 2020, but RESI has the option to extend the maturity date for up to three successive one-year extensions, and the effective maturity date is November 2022 (the first extension was exercised in 2019).
Although RESI has quite a levered balance sheet, it has at least two more years to rightsize its cost structure, pay down debt, or find another buyer.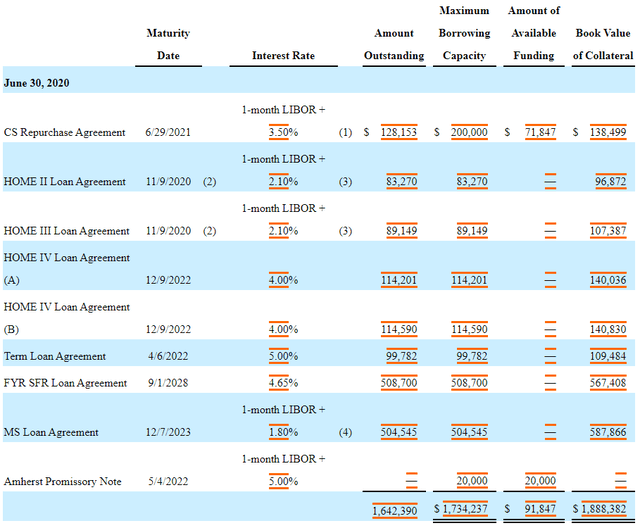 Source: Q2-2020 10-Q
Valuation is Still Compelling
RESI generated $33.0 million in NOI in Q2-2020, which I annualized and assumed a 2% growth rate to arrive at the forward NOI of $137.3 million. I then capitalized it by 6.5% (I explained my reason for the 6.5% cap rate in a previous article). I then reduced the cash level by $54.2 to reflect that RESI will be paying the termination fee in cash. I estimate RESI's NAV to be $823.7 million, or $14/share. This can be interpreted as the fair value to pay to buy the entire SFR portfolio from RESI.
To account for the ongoing SG&A expense, I capitalized the normalized $24.5 million annual SG&A by 10.0x (as mentioned above, $13.8 for internal SG&A, $14.7 million for the external management fee, and $4.0 million cost saving from the internalization). The SG&A-adjusted NAVPS is roughly inline with RESI's current stock price of $9.65. The 10.0x multiple is a rule-of-thumb and I don't really have a good argument for why 10.0x is right vs. 12.0x or 8.0x, but I guess you can roughly conclude that RESI is fairly valued if you assume it's going to stay independent into perpetuity.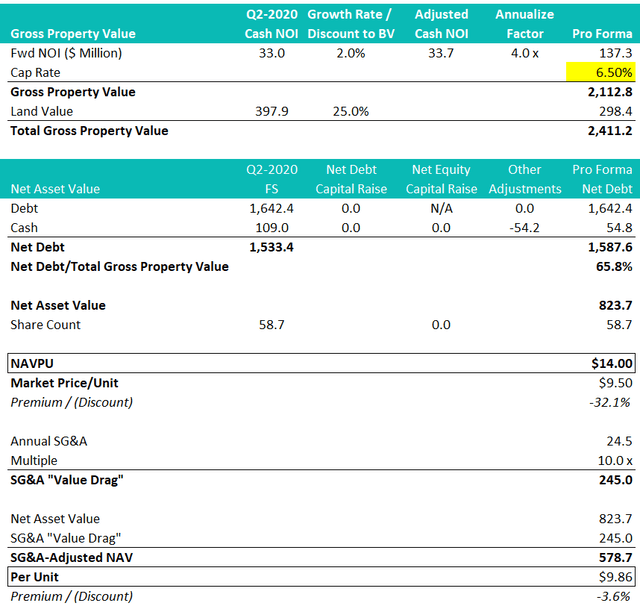 Source: Company Filings, Author's Estimate
I estimate RESI's true earnings power (represented by AFFO) to be $0.47/share. The Q2-2020 AFFO was $0.09 or $0.36 on an annualized basis. The delta comes from my estimate of $4.0 million SG&A cost savings, and my assumption of a continuation of a reasonable 2% rent growth for the next 12 months. This translates to a current trading P/AFFO multiple of 20.4x, roughly 6.0-8.0x discount to Invitation Homes (NYSE:INVH) and American Homes (NYSE:AMH). To be clear, I think RESI deserves a lower multiple vs. its bigger peers given the lack of scale and more levered balance sheet.

Source: Company Filings, Author's Estimate
Conclusion
The SFR has demonstrated its resiliency and the Blackstone/Tricon deal has further validated this point. With the macro wind on its back, I think RESI has an opportunity to re-rate if it can continue to print solid quarters. The internalization of the management team will further help lower its cost structure. With enough time, the management could deleverage itself and make RESI a great take-private candidate.
Disclosure: I am/we are long RESI. I wrote this article myself, and it expresses my own opinions. I am not receiving compensation for it (other than from Seeking Alpha). I have no business relationship with any company whose stock is mentioned in this article.